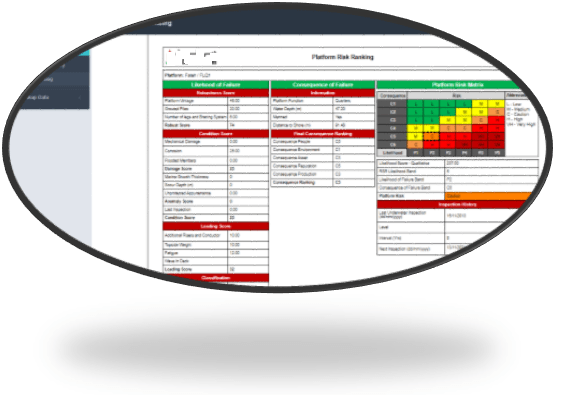 Ankaa Consulting have developed a qualitative RBI methodology for subsea inspection planning. The methodology also allows for over-ride from quantitative analyses if they are performed. The over-ride is based on calculated RSR values from ultimate strength analysis.
The RBI methodologies have been developed within our in-house tool.
The tool also has capability for storage of all structural data related to assets satisfying the 'Data' element of the lifecycle process. The RBI methodology generates and inspection plan and risk based interval. (Evaluation and Strategy elements).
A semi-quantitative methodology for structural topsides RBI has also been developed. As some typical topsides structures may consist of thousands of structural components, the methodology adopts a rational approach by grouping similar components into logical groups greatly reducing the data entry and complexity of developing a topsides inspection plan.